King Arthon was the first King of Hyrule in the Zelda Dynasty, husband of Princess Nylin Zelda I.
Physical Characteristics
Edit
Arthon's physical traits are hidden under his golden Hylian general helmet and armor.
Arthon is commander of the forces garrisoned at Lon Lon during Ganon's initial attack to capture Princess Zelda I. Though his forces are defeated by the Moblins he manages to survive and regroup with Hylian forces.
Arthon is later encountered at Snowpeak discussing battle plans with Rauru as Princess Nylin Zelda I and Impa enter Snowpeak Manor. He later departs with Rauru to gather reinforcements, and subsequently joins Princess Zelda's counterattack.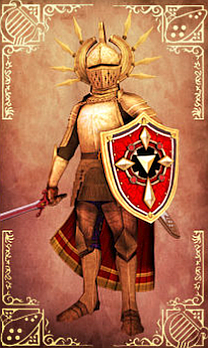 First Golden Age
Edit
Arthon marries Princess Zelda I some time around 30 AG, and together they have a daughter, Princess Yanera Zelda II.
Ancillaries
Edit
Arthon is used as a random name for Generals in the Freeform Campaign and Custom battles. These individuals should not be considered the historical character.
Ad blocker interference detected!
Wikia is a free-to-use site that makes money from advertising. We have a modified experience for viewers using ad blockers

Wikia is not accessible if you've made further modifications. Remove the custom ad blocker rule(s) and the page will load as expected.