Aryll

Name

Aryll

Titles

Race

Hylian

Gender

Female

Family

Birth

Death

Weaponry

Cutlass

Music Themes
A member of the New Hyrule Navy that has been rising in the ranks, Aryll claims to be the sister of Link and has been searching for him ever since he disappeared from his family at the age of ten. Though not one for a sword fight, Aryll has shown exceptional skill at manning ships as well as having a knack for exploring the islands of the Great Sea. On land she scouts out enemy forces with a host of Surveyors. On the Sea she mans the fastest Navigator in New Hyrule's fleet.
Hero Ability
Edit
Land ability
Edit
Perseverance - Ayrll's tenacious endurance lets her continue on longer then most people, inspiring nearby soldiers to continue fighting even when tired. Restores fatigue.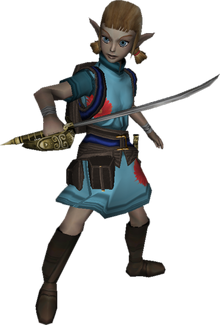 Ad blocker interference detected!
Wikia is a free-to-use site that makes money from advertising. We have a modified experience for viewers using ad blockers

Wikia is not accessible if you've made further modifications. Remove the custom ad blocker rule(s) and the page will load as expected.