Aydia
[[|300px]]

Name

Aydia

Titles

Commander

Race

Gender

Female

Family

Birth

Death

Weaponry

Lanayru Sword

Music Themes
Commander Aydia is the leader of Lanayru Province's conscript forces and a high-ranking military leader under Queen Rutela.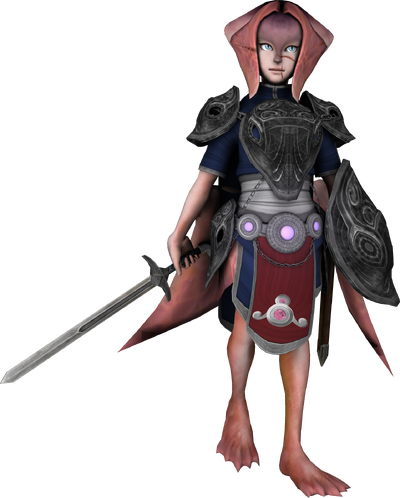 First Golden Age
Edit
The daughter of a Hylian mother and Zora father, Aydia's parents were put under trial by the Dominion and Kingdom of Hyrule and sentenced to prison for crimes of perversion. Aydia was left orphaned for many years of her life where her hatred for both empires grew.
Second Golden Age
Edit
Now an accomplished swordsman, it was Aydia who started the Conscript program and proposed that Lanayru field an army to defend themselves from the eventual persecution of their pure blooded neighbors.
The Return of Sulkaris
Edit
In 126 AG, Aydia is warned by her scouts of a Gohma army advancing on the Lanayru capital of Airu, and, already aware of the attack on Hyrule a week before, races to warn the Queen. Rutela charges her with the city's defense, while leading her people from the Throne Room. She then departs to rally the city's Conscripts and other defensive forces as the Queen prepares for battle. As the Gohma break into the city, Aydia and the survivors fall back to the throne room and make a last stand, but are overrun by Gohma. She survives and is ordered by Rutela to rally any survivors outside Airu, escaping through the submerged caverns under the City.
Aydia and her regrouped forces later come to the aid of the Hylian army under attack by the Order of the Wizzrobe when tracking the smoke created by the Order's pyromancers.
Bodyguard
Edit
Hero Power
Edit
Forced March: Stamina of nearby allies dramatically increases. Can only be used once per battle.
Ad blocker interference detected!
Wikia is a free-to-use site that makes money from advertising. We have a modified experience for viewers using ad blockers

Wikia is not accessible if you've made further modifications. Remove the custom ad blocker rule(s) and the page will load as expected.