Biggoron

Name

Biggoron

Titles

Legendary Smith

Race

Gender

Male

Family

Medigoron (younger brother)

Birth

Death

Weaponry

Powder Kegs

Music Themes
Biggoron is the largest Goron in all of recorded history.
Etymology
Biggoron's name is a combination of Big and Goron.
Personality
Despite his name being associated with weaponry, Biggoron is a pacifist at heart and creates his work for the sake of art and self defence.
History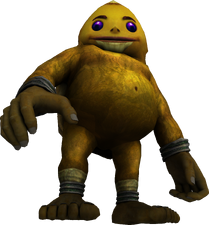 Biggoron lives a mostly solitary life on Death Mountain, where he spends most of his time perfecting the refinement of metals. His work is the basis for forging some of the Gorons' high quality weapons and armour.
Abilities
| | | |
| --- | --- | --- |
| Unstoppable | | Biggoron can effortlessly and instantly knock down walls and gates by walking through them. |
| Giant's Slumber | | Biggoron curls up, becomes immobile and can no longer attack. All damage dealt to Biggoron is reduced to 1. |
| Earthquake | | Causes a giant shockwave. Deals a lot of damage to structures in addition to massive knockback to any units in his aura. |