Farore

Name

Farore

Titles

Oracle of Secrets

Race

Gender

Female

Family

Birth

Dawn of Hyrule

Death

Weaponry

Music Themes
This article is about the Oracle Farore. You might be looking for the Goddess of the same name.
Farore is an Oracle of the Golden Goddesses.
Physical Characteristics
Edit
Farore is depicted in Goddess Worship as a being similar to a Hylian woman, with long green hair worn back in two distinctive buns, and a long flowing green dress.
Prehistory
Edit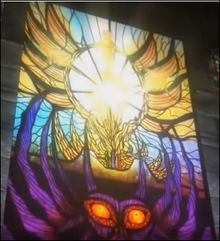 The three Oracles were created alongside or shortly after the Elementals by the Golden Goddesses during the Dawn of Hyrule. After the creation of the Triforce, they assisted in passing it onto the Trilith. Their involvement of the Oracles in the war against the Druthulidi is unknown.
According to the Book of Mudora, they were present during the sealing of Majora into Termina.
Ancient Age
Edit
Farore evidently had some contact with the ancient Huskus and Kasuto, as the Kokiri honor her through their Shrines of Courage.
Ad blocker interference detected!
Wikia is a free-to-use site that makes money from advertising. We have a modified experience for viewers using ad blockers

Wikia is not accessible if you've made further modifications. Remove the custom ad blocker rule(s) and the page will load as expected.