Welcome to the Conquest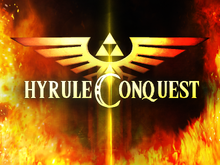 Welcome, the Hyrule Conquest wiki is a community where people can update information on the mod Hyrule Conquest and also chat about the game.
There are currently 1,116 pages on this wiki and we are still growing.
About Us
This wiki is about Hyrule Conquest, a mod for the Pyrogenesis Engine used by 0 A.D., created by Chasen Lindsey. The mod's development forums can be found here.
Where to start
While it is fine for you to edit as an anonymous user, we would prefer if you made an account. Some of the more major pages on this wiki include: Hyrule Conquest and Hyrule Historia, use these pages as a great way to start as they link to many other pages.
If you need help on this wiki you should go to an Admin for help, here is a list of Admins.
Explore
Create blog post
Recent news
So as we have been discussing in the Discord server, UndyingNephalim has been considering to abandon the Medieval II engine for 0 AD, and the more time passes the more likely the game will be ported …

Read more >
See more >
Ad blocker interference detected!
Wikia is a free-to-use site that makes money from advertising. We have a modified experience for viewers using ad blockers

Wikia is not accessible if you've made further modifications. Remove the custom ad blocker rule(s) and the page will load as expected.