Kad-a-kana

Name

Kad-a-kana

Titles

Race

Gender

Female

Family

Kud-loh-kan (father)

Birth

Death

Weaponry

None

Music Themes
Kad-a-kana, the Deku Princess, is the only daughter of Kud-loh-kan, King of the Deku Tribes.
Physical Characteristics
Edit
The Deku Princess is a female Deku Scrub with a dark brown bark body and small bioluminescent orange eyes.
Personality
Edit
Princess Kad-a-kana is noted for long bouts of sadness punctuated by violent bursts of anger.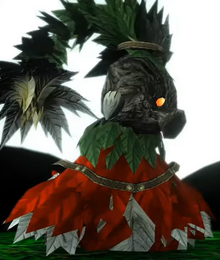 In 101 AG, following an attack by the Gohma and the Fallen Sage Sulkaris, the Great Deku Tree calls a meeting between the leaders of the people of the Kokiri Forest in an attempt to create an alliance to strike against the Gohma. The Deku King sends the Deku Princess and her servant Kado to the meeting to represent him. When Kasuto mentions the name of Sulkaris, the Deku Princess and Kado readily accept to help the Kokiri defend the forest.
In 132 AG, the Stalfos under Lord Akazoo invade the forest, seeking to add the Deku Scrubs and the Lizalfos to their undead army. The Deku Princess is approached by the Voice of Odolwa who claims to know her father's killer: a Deku Monkey by the name of Ook, in return for her service to the God of the Hunt Odolwa.
Hero Power
Edit
Duck and Cover: Chance for enemy to score instant kills on your units is greatly reduced.
Bodyguard
Edit
Bubblings (Hyrule)
Poison Sprayers (Termina)