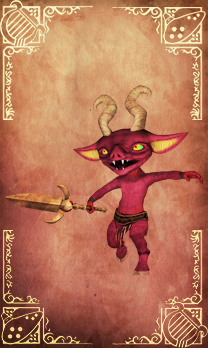 Miniblin Tormentors
are swarms of the Miniblins - the smallest Blin creatures - employed by the
Moblins
and
Ocean Blins
.
Description
Edit
Miniblins were the lowest class of Blin while under the rule of the Moblins. Tiny and weak, Miniblins have been bullied and bossed around by their larger cousins for thousands of years. Despite their poor status amongst Blins, in large enough swarms, Miniblins become terrifying and vicious predators, infamous for their knack of playing with their victims through torture.
Attributes
Edit
| Name | Description |
| --- | --- |
| Long Reach | Bonus damage against all cavalry, immune to charges |
| Numerous | Larger troop count |
| Nimble Footing | 25% increased chance to parry melee attacks |
| Tenacious | Deals much more damage than units of the same size |
Ad blocker interference detected!
Wikia is a free-to-use site that makes money from advertising. We have a modified experience for viewers using ad blockers

Wikia is not accessible if you've made further modifications. Remove the custom ad blocker rule(s) and the page will load as expected.