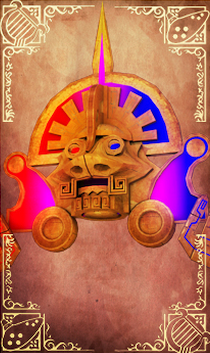 Minish Golems
are giant constructs used by the
Picori
and affiliates.
Description
Edit
A giant construct created by a joint effort between the Picori and the Wind Tribe, these giant hovering Golems bring the power of ten-thousand Minish to bear upon their enemies. Operated by a small crew of Picori, the huge head of the Golem can unleash powerful burning magic while its two hands crush anything beneath them.
Attributes
Edit
| Name | Description |
| --- | --- |
| Flight | Dodges most melee attacks, extremely vulnerable to ranged attacks |
| Flame Attack | Ground continues to burn on impact, damaging nearby enemies' morale |
| Imposing | Damages morale of all non-cavalry units |
Ad blocker interference detected!
Wikia is a free-to-use site that makes money from advertising. We have a modified experience for viewers using ad blockers

Wikia is not accessible if you've made further modifications. Remove the custom ad blocker rule(s) and the page will load as expected.