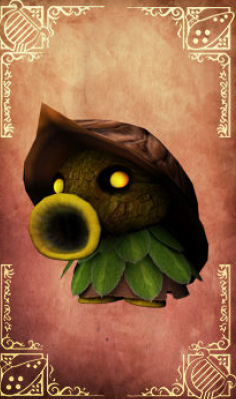 Nutlings
are the defensive infantry of
the Deku Tribes
.
Description
Edit
This breed of Deku Scrub grew a protective nut shell on top of their heads rather than leaves or flowers. Such a covering made Nutlings very durable to conventional weapons, a trait the Deku Tribes used to protect narrow passages and bottlenecks. Nutlings were also small enough to hide under their head growth, making them invisible to casual observers.
Attributes
Edit
| Name | Description |
| --- | --- |
| Deku Nut Shell | Resistant to arrow fire |
| Numerous | Larger troop count |
| Skirmisher | Can make one ranged attack before charging |
| Stealth | Can hide anywhere |
Ad blocker interference detected!
Wikia is a free-to-use site that makes money from advertising. We have a modified experience for viewers using ad blockers

Wikia is not accessible if you've made further modifications. Remove the custom ad blocker rule(s) and the page will load as expected.