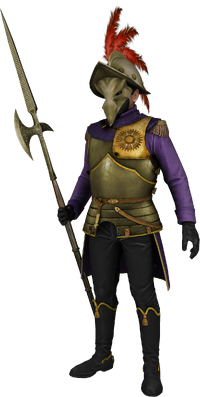 Palace Watch
are the high-level spearmen of the
Labrynna Regime
.
For centuries the Palace Watch have guarded royal grounds in Labrynna. Wearing a mask of the Iron Helm Beetle of Rolling Ridge, these men and women have dedicated their lives to ensuring no ground is lost to enemies of the state.
Attributes
Edit
| Name | Description |
| --- | --- |
| Long Reach | Bonus damage against all cavalry, immune to charges |
| Inspire | Improves troop morale |
| Heavy Armor | Resistant to all non-Armor Piercing attacks |
The Palace Watch's mask is a stylized Hiploop, or Iron Mask, an enemy from The Legend of Zelda series.