Sahasrahla was the second Sage of Light of Hyrule and the father of Rauru.
Etymology
Edit
Sahasrahla's name was Ancient Hylian for sun (sahas) and chaser (rahla).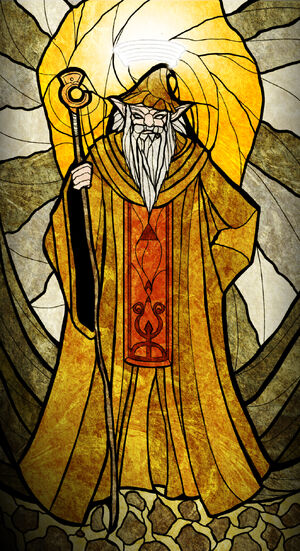 Physical Appearance
Edit
Sahasrahla was a frail old Hylian man when named a Sage. He was notable for his red eyes, hinting at pure Hylian blood, though he often chose to conceal them from onlookers.
Powers and Abilities
Edit
Sahasrahla was given the ability to control and manipulate various forms of light by the Golden Goddesses. He could bend light around his form, rendering himself and entire areas invisible from sight.
Personality
Edit
Sahasrahla was often noted for being a very grumpy individual, never satisfied with the efforts or work of others. To his friends he was something of a prankster and a humorous individual. Despite his apparent anger Sahasrahla often worked with the Wizzrobes of Hyrule to generously aid the sick and the poor.
Ancient Age
Edit
Sahasrahla was named the Sage of Light a century after the defeat of Sulkaris and Hylia's disappearance from Hyrule, sometime around 2900 BG. He worked with the Wizzrobe for many years of his life to aid the unfortunate in Hyrule, until one day he was approached by Mediator Ooccoo of the Oocca. He worked with her in secret for many centuries until he named his own son Rauru the next Sage of Light and passed the task unto him.
Preceded by:
Solahrasin
Position:
Sage of Light
c. 4900 BG - c. 2000 BG
Succeeded by:
Rauru