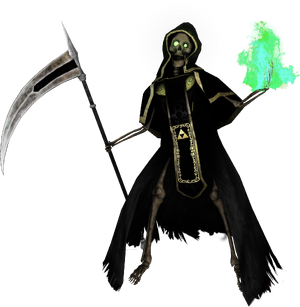 Scythe Lords
are intelligent
Stalfos
spellcasters capable of flinging fireballs and also serve as command units and bodyguards for Stalfos
Death Swords
.
Description
Edit
Originally one of the masterminds behind the recent resurgence of Stalfos, the Scythe Lords managed to maintain their intellect for a time after willingly becoming undead. Their power was flawed however, and day by day they slowly lose part of their mind and become but a drone for other more powerful Necromancers.
Attributes
Edit
| Name | Description |
| --- | --- |
| Magic | Instantly kills hit enemies |
| Melee Weaponry | Becomes Infantry when in melee |
| Flame Attack | Ground continues to burn on impact, damaging nearby enemies' morale |
| No Fear | Cannot lose morale and retreat |
Recruitment
Edit
Ad blocker interference detected!
Wikia is a free-to-use site that makes money from advertising. We have a modified experience for viewers using ad blockers

Wikia is not accessible if you've made further modifications. Remove the custom ad blocker rule(s) and the page will load as expected.