Solado Ambi
[[|300px]]

Name

Solado Ambi

Titles

Queen

Race

Gender

Female

Family

Ralphonso Ambi (grandson)

Birth

Death

Weaponry

Labrynnian Sword

Music Themes
Solado Ambi is the ruling Queen of the Labrynna Regime, whom has presided over the nation's sudden industrial revolution and expansionist ambitions.
Biography
Edit
The current leader of Labrynna Regime, Queen Ambi inherited the Kingdom from her recently deceased husband and previous King. For a time, she fell into a deep depression and Labrynna began to falter as a result. One day, however, her demeanor changed and soon after the Regime began to make huge strides in economics and technology. Seemingly from nowhere, she helped develop Hydraulics as a new energy source for her kingdom, as well as provided insight into new forms of weaponry. She now strives to expand west in Hyrule and find more resources to complete her crowning achievement: a massive tower from which she may look upon all the land.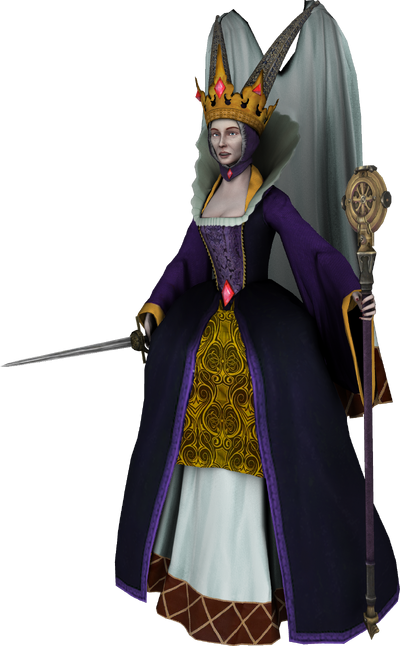 Some time during the Second Golden Age, the Great Fairy Veran arrived in Labrynna becomes Ambi's adviser. Over time, Ambi slowly succumbs to Veran's malicious intents. She militarizes the Regime and orders the construction of the Black Tower - a symbol of Labrynna power, a monument to their doctrine of expansion, and a supreme throne from which she could rule.
Preceded by:
Unnamed King of Labrynna (as King of Labrynna Regime)
Position:
Queen of the Labrynna Regime

Unknown - 129 AG

Succeeded by:
Unknown
Ad blocker interference detected!
Wikia is a free-to-use site that makes money from advertising. We have a modified experience for viewers using ad blockers

Wikia is not accessible if you've made further modifications. Remove the custom ad blocker rule(s) and the page will load as expected.