Telara

Name

Telara

Titles

Head Librarian

Race

Gender

Female

Family

Zaleen (husband)

Birth

Death

Weaponry

None

Music Themes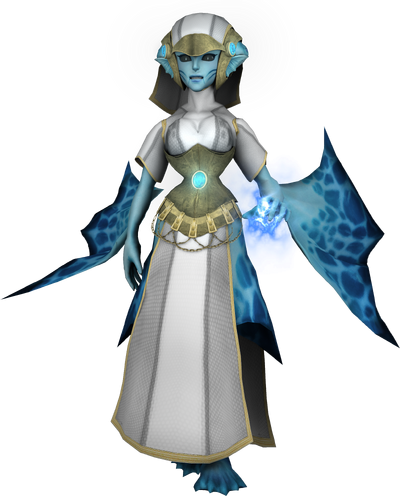 Telara
is the Head Librarian of the
Zora Dominion
and the wife of
Zaleen
.
Physical Characteristics
Edit
Telera is a female Zora with light blue skin and black eyes, with ridged fins along her head.
First Golden Age
Edit
Telara marries Zaleen a short time before the Gerudo Wars, when he becomes fed up with the haughty and spoiled behaviour of his fiancée, Princess Ruto.
In 100 AG, when King Farkos is away on Death Mountain during an invasion of the Goron rupee mine Gor Forgaru, Laruto, an ambassador from Lanayru Province, arrives at the Zora Dominion and asks for a trade agreement between the Dominion and Lanayru. Ruto flatly refuses, claiming that it would cause the half-breeds from Lanayru to come taint the purebloods, even though Ruto herself is a half-breed as well. Telara gests Zaleen to leave the meeting early, but they quickly have to return when they spot a River Zora raid.
Telara defends Domain Prime against the invading River Zora and their Twili allies. During the battle, Domain Prime suddenly comes down collapsing over the Zora and the Twili, while the River Zora minions have left. It is revealed the River Zora has been taking advantage of Ruto, Laruto and Zaleen being occupied by General Onox down underground to plant Sols all around the Domain, and with Onox dead they were detonated. Telara's fate is unknown after the Domain's destruction.
Hero Power
Edit
Storm Bolt: Telara fires a magical blast above an enemy group, releasing a series of electric bolts.

Bodyguard
Edit
Ad blocker interference detected!
Wikia is a free-to-use site that makes money from advertising. We have a modified experience for viewers using ad blockers

Wikia is not accessible if you've made further modifications. Remove the custom ad blocker rule(s) and the page will load as expected.