Vorday

Name

Vorday

Titles

Lord Vorday, Master Vorday, High Vizier of the West

Race

Gender

Male

Family

Birth

Death

Weaponry

Gilded Zuna Trident

Music Themes
Vorday is the ruler of the Zuna and vassal to Zalunbar of the Darknut Legion.
Physical Appearance
Edit
Vorday is a male Zuna, with blue-green scales and black eyes with large slits under them.
Personality
Edit
Vorday is a sycophantic, weak-willed bootlicking minion of Zalunbar. He constantly attempts to flatter Zalunbar by praising Darknut divinity and superiority. Despite this, he seems to hold true to the Legion's concept of honor, as he is visibly shocked when Zalunbar orders him to cheat in the Games.
When the Moblin King Ganon shows up at Zunayus and requests to participate in Zalunbar's challenge, Zalunbar orders Vorday to prepare an army of Zuna auxiliaries so as to give him an advantage against Ganon's Moblins, directly violating the rules which he himself made for the challenge.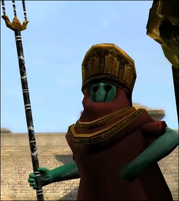 Hero Ability
Edit
---
Bodyguard
Edit
Gameplay
Edit
Vorday appears at Zunayus as the sole Hero unit for the Zuna. He can be recruited into a player's faction by absorbing the Zuna.
Ad blocker interference detected!
Wikia is a free-to-use site that makes money from advertising. We have a modified experience for viewers using ad blockers

Wikia is not accessible if you've made further modifications. Remove the custom ad blocker rule(s) and the page will load as expected.